Using Twitter Hashtags To Support Live Shows and Tours
Posted in
Guest Posts
on
Monday, October 5th, 2009
at
4:58 pm
by
dannydee
With many bands now on the Twitter wagon, it's time to really harness the power of using the little intricacies of Twitter to transcend the live experience.
One of Twitter's most underused features is the #, or hashtag, that is used to signify an ongoing conversation or event. Today I was at IZEA Fest, a Social Media Conference help in Orlando, FL. There was roughly 500+ people in attendance, and everyone was Tweeting. At the beginning or end of every Tweet, we used #izeafest to signify that we are talking about the event. In just the first hour, over 500 Tweets were sent out and the buzz on the event went viral. People asking, "what is Izeafest" to "who is speaking next" and "man I wish I was there" – and those are the Tweets from people not even at the event.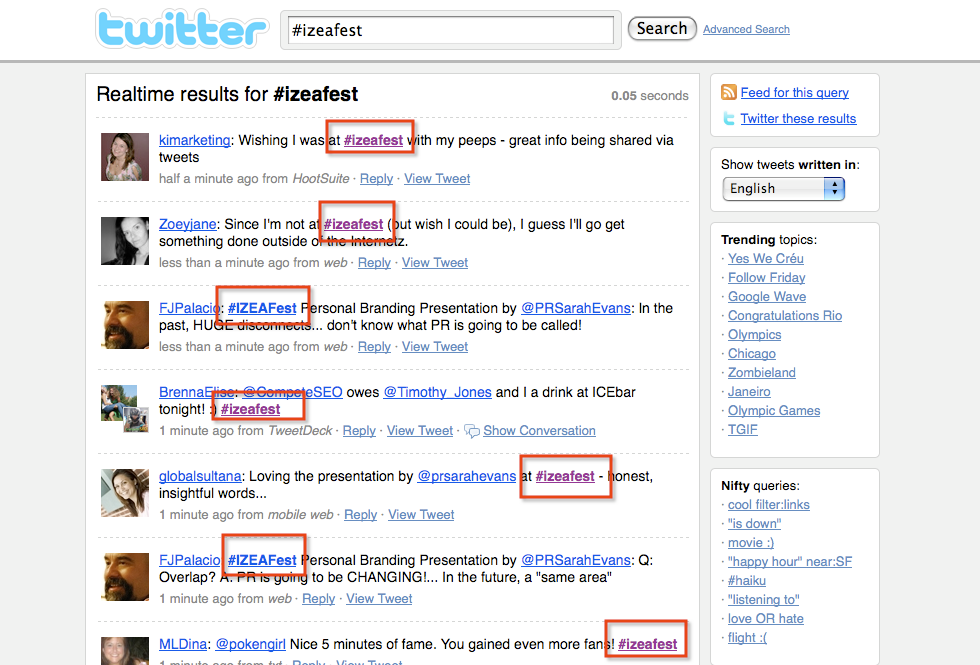 Now, let's apply this to live music. What if you used a hashtag to promote your show, used it at the show and used it after the show.
Show Promotion
Tweeting about your show with a hashtag gives your fans the opportunity to spread the conversation via ReTweets and allows you to easily monitor the conversation. Who is talking about the show? Even if fans don't mention your Twitter handle, if they are using the hashtag, you can track it, respond and see the buzz about the show.
At the Show
Create a banner, sign or at the merch booth, casually ask fans to Tweet about the show using the hashtag. This will track all the conversations about the show as it is happening allowing for 2 major things.
Promotes your show to the people NOT in attendance. Remember that a Tweet is seen by all their followers, so if a fan Tweets, #yourshow – getting my face melted off by this band, etc… it now gives all their followers a chance to check out your music as they might want their face melted too. Instant free promotion by your fans.
You can check out what happened after the show. Did your fans like certain songs, did they not like something about the venue, etc. Your fans will share the most bizarre things and you can track it all.
After the Show
When the show is over, you are going to have pictures, video and other media from the show. Using the #yourshow in tags on Flickr, YouTube and other media sharing sites can help keep you organized, gives the press and media and easy place to find everything they need for a show review and gives fans a chance to retrace their steps of their experience.
Big Brand Music Marketing
Applying this to a big brand and a major tour can leave an amazing trail. Having the merch booths decked in hashtags could lead to Twitpics of shirts, people rocking the merch and then others at the show tracking it via Tweetdeck or other mobile apps and convince them that they need to buy something. Having it on a banner behind the stage instead of the texting signs paid for by cell phone companies they can get viral messages sent.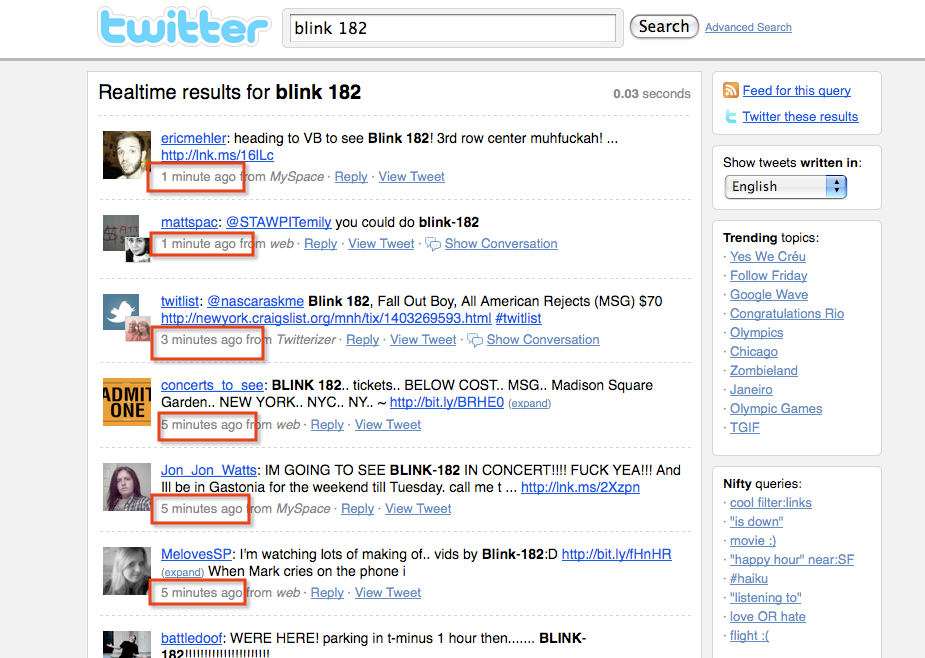 Using Sponsors and Hashtags
At the Blink 182 show with Fall Out Boy and Asher Roth, T-Mobile (the event sponsor) could have stated Tweet #tmobileblink and millions of people could have seen the messages and now have a way to track the conversations. In the past 15 minutes there have been 39 tweets about tonight's show (and the show isn't for 4 hours). None of them are being tagged and categorized.
Conclusion
Start thinking about getting your fans and your own accounts to start tracking conversations using hashtags. All there is to it is making one up that is unique and then using it and telling people about it.
Super simple viral promotion. The worst that can happen is you make the Twitter Trending Topics and send millions of people to your website.
_____________________________________________
This post was written by Greg Rollett. A music marketing and internet marketer from Orlando, FL and teacher at Label 2.0 – marketing school for musicians. Follow him on Twitter, @g_ro.
Leave a Reply
TWEETS
Categories